Bahamas is an island nation in the Carribean, consisting of more than 700 islands, cays, and islets in the Atlantic Ocean; north of Cuba and Hispaniola (Haiti and the Dominican Republic); northwest of the Turks and Caicos Islands; southeast of the US state of Florida and east of the Florida Keys. Its capital is Nassau on the island of New Providence. The designation of "Bahamas" can refer to either the country or the larger island chain that it shares with the Turks and Caicos Islands.
Bahamas became independent from the United Kingdom in 1973.
World War III
Edit
During World War III, the United States is mentioned to be fighting Cuban forces that invaded the island nation; while the neigboring Turks and Caicos Islands have been occupied by the Cubans.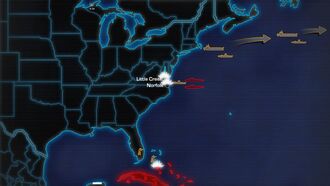 Ad blocker interference detected!
Wikia is a free-to-use site that makes money from advertising. We have a modified experience for viewers using ad blockers

Wikia is not accessible if you've made further modifications. Remove the custom ad blocker rule(s) and the page will load as expected.