Everybody Wants to Rule the World is a single and second from English band Tears for Fears' 1985 album Songs from the Big Chair. The first half of the song was used in the Ruling the World trailer, and in the credits of World in Conflict: Soviet Assault.
Lyrics (Ruling the World Trailer)Edit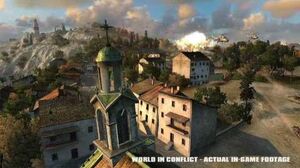 Welcome to your life
There's no turning back
Even while we sleep
We will find You acting on your best behavior
Turn your back on mother nature
Everybody wants to rule the world
It's my own desire
It's my own remorse
Help me to decide
Help me make the most of freedom and of pleasure
Nothing ever lasts forever
Everybody wants to rule the world
There's a room where the light won't find you
Holding hands while the walls come tumbling down
When they do, I'll be right behind you
So glad we've almost made it
So sad they had to fade it
Everybody wants to rule the world
Ad blocker interference detected!
Wikia is a free-to-use site that makes money from advertising. We have a modified experience for viewers using ad blockers

Wikia is not accessible if you've made further modifications. Remove the custom ad blocker rule(s) and the page will load as expected.