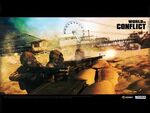 '"Come on man, stop slacking off or I'll find willing soldiers who can SHOOT!"'
This article, LARS 110 SF 2, is a stub. Please help the war effort and save this article.
The LARS 110 SF 2 is the heavy artillery support vehicle of the NATO forces.
Ad blocker interference detected!
Wikia is a free-to-use site that makes money from advertising. We have a modified experience for viewers using ad blockers

Wikia is not accessible if you've made further modifications. Remove the custom ad blocker rule(s) and the page will load as expected.