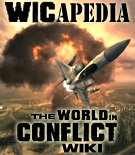 Welcome to World In Conflict encyclopedia that anyone can edit.
Search 227 articles:
We are currently working on 227 articles. You can check out the new pages, recent changes, and statistics. Don't know what World in Conflict is? Then read our summary here! For those who want to know more about World in Conflict, Tips, Game Modes, and more, then read the World in Conflict Guide! For a comprehensive guide to the units within World in Conflict, check out the Guide to Units.

Also, if you have the retail version of World in Conflict, be sure to visit the Massgate Community. Here you can check your Profile, look at the status of the War Room, look at the Leaderboards, and discuss with others on the forums.

If you've never been here before, you can find out more by checking out the About page. Need help? Please visit our Help section. Questions? If you've got questions you can post them at our community center, the Main Page discussion, or you can simply visit one of our Forums and ask there!

Still don't know where to start? Check here to find out which pages need a little more work. If you need edit-specific help, check out our editing help page.
---
Forum - Recent Changes - New Pages - Wanted Pages - Administrators - Help
---
Current Events
---
Article Improvement Program - Aimed to improve current and upcoming articles to wiki-standards. Help finish this Program and help this wiki grow!
---
Featured Article!
---
The KMDB T-80U "Kobra"(NATO designation SMT1997) is a Soviet Heavy Tank developed for the Soviet Ground Forces in 1976. It is a land warfare superiority tank with it's main competitors being the M1A1 Abrams and the Leopard 2A4. The Soviet Army needed a better tank than their....More
---
Featured Quote
---
"

War can be fascinating to watch on TV but up close and personal it's a whole other story

Lieutenant Parker, on the Soviet attack on Seattle

"
---
Did You Know?
---
That George H.W. Bush would have been the US President during the events of World in Conflict?
---
Featured Video
---
---
Ad blocker interference detected!
Wikia is a free-to-use site that makes money from advertising. We have a modified experience for viewers using ad blockers

Wikia is not accessible if you've made further modifications. Remove the custom ad blocker rule(s) and the page will load as expected.