The soundtrack for World in Conflict, and its expansion Soviet Assault, was composed by Ola Strandh.
Track Listing
Edit
World in ConflictEdit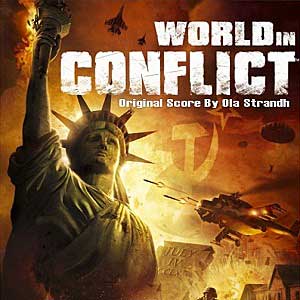 Prelude
Aim For The Heart
Incursio
The President And The Nuke
Originis
Mike & Anton
Classroom Prep
Bannons Sacrifice
European March
Marche Des Sabatier
Tundra
Sollicitudo
Ego
Sniper Run
Squirrel On A Branch
Effloresco
Shortcomings
Strong Point Strongpoint
Nicole
Hold That Thought
Broken Flower
Percutio
Regarding Sawyer
World In Conflict
Looking for Survivors
Governors Island
Khaldun
Soviet AssaultEdit
Soviet Assault Waltz
My Name is Legion
Spetsnaz
Propaganda and Attack
Plan in Motion
Incursio - Soviet Assault
Odinochestvo
Marching North
Aurora Borealis
Second Thoughts
Collective Punishment
The End is Nigh
Under Pressure
Fall of Man
Konets
Ad blocker interference detected!
Wikia is a free-to-use site that makes money from advertising. We have a modified experience for viewers using ad blockers

Wikia is not accessible if you've made further modifications. Remove the custom ad blocker rule(s) and the page will load as expected.