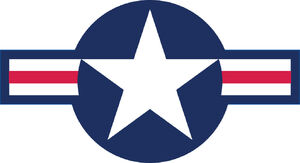 The United States Air Force is the aerial warfare branch of the United States Armed Forces. The US Air Force possess the most sophisticated and powerful aircraft armed with special weaponry.
Much of its history are currently known, first serving in the Korean War.
World War III
Edit
As World War III, the Air Force provided transport, support, and surveillance to the Army, Navy, and Marine Corps fighting in Europe against the Soviets. It is mentioned by colonel Sawyer that since the invasion began, the U.S. Air Force worked around the clock launching sorties day and night. Much of the city of Seattle was bombed out, mostly by the U.S. Air Force, probably hitting strategic targets to cripple the invasion force. It's very likely that air superiority wasn't established until after the liberation of Seattle. The Air Force tried time and again for the next six months to gain air supremacy, but failed due to large numbers of Soviet aircraft in the skies.
When the Soviets invaded Seattle, the Air Force also sent all available aircraft to provide support and transport to the surviving US units.
They also contributed in assisting the U.S. forces in retaking Seattle from the Soviets.
Equipment
Edit
The US Air Force operates several jet fighters, strategic bombers, and helicopters. In addition, the Strategic Air Command, the nuclear forces of the United States, is under the Air Force.
The following vehicles are found in game:
Fighter Jets
Edit
F-15 Eagle
F-16 Falcon
F-5 Tiger
Close Air Support Aircraft
Edit
Transport Planes
Edit
C-130 Hercules
C-141 Starlifter
C-17 Globemaster
Helicopters
Edit
F-117 Nighthawk
B-52 Stratofortress